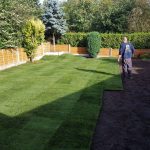 A professional gardener in Timperley will take the hassle out of gardening. If you love spending time in your garden, but are battling with the more strenuous aspects of gardening, our gardener is on hand to assist where you need it most. Whether it is mowing the lawn, shaping and trimming bushes or planting new plants, our gardener has the skill, patience and dedication to assist you. There is nothing quite like a beautiful garden. It doesn't matter what the size is ether. A carefully planned and planted garden is guaranteed to add a little tranquillity to a busy life.
Need to move compost and fertiliser from one end of the garden to the other but don't have the strength to do so? In Timperley, a gardener can move the items to where they need to be. He can also assist with mixing the nutritious fertiliser and compost into the soil. Our team is highly skilled  in all aspects of gardening work and will be thrilled to assist you keep your garden looking its best. We take great pride in our work, only ever offering high levels and standards of workmanship. We also take pride in our dedicated team, encouraging them to give of their best. We aim to be the number 1 horticultural company in the area with a dedicated work ethic and passion for what we do. You will also find that our prices are competitive. Speak to us for a quote should you need a gardener from our team to assist you.
A gardener in Timperley will make light work of the heavy lifting. Now you can fully enjoy the parts of gardening that you like best and leave the carrying and lifting to our gardener. For more information on how we can assist you, contact JNP Garden Service. A family run business, we offer a comprehensive service that won't be beaten on price or quality. We firmly believe that you should cherish and be proud of your outdoor living space. This is why our mission is to ensure all the work we carry out is to the highest standards.