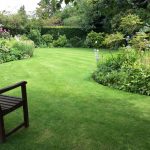 It is our vision to make available expert garden advice, bespoke landscaping techniques and turf laying in Hale at JNP Garden Services. We help to create the  perfect little Eden for you! Our expert teams of professionals are more than competent in handling a range of services like designing, landscaping, maintenance, garden construction and turf laying, all under the JNP Roof. As a family owned garden landscaping company, we pride ourselves on helping our clients with cutting-edge solutions for all kinds of garden projects. Having first set up shop in Altrincham, we are now a renowned name in the whole of the North West region.
Our landscaping projects, and in Hale, turfing projects undertaken by us  have been very successful and popular with commercial and domestic clients alike. We have helped alter homes, business parks, superstores and public parks into idyllic locales, and more importantly, lung spaces in Hale and surrounding areas.  Our skilled work force is able to convert blueprints into reality, bringing about a transformation to environments that both benefit and complement our esteemed clients. Some of our specialized services include design implementation, tree screening and planting, hedge and turf installations.
For turf laying in Hale, we guarantee the highest quality of standards and services. Our professional team is always at hand to provide practical and cost beneficial solutions regarding all aspects of this service. Turf supplies and laying is a highly specialised and intricate process. We ensure that in addition to supply of quality material, all Environmental Agency Standards and Codes of Practices are strictly adhered to eliminate concerns regarding these issues in the future. We use the best quality turf for our projects, with timely advice and support from the expert JNP team, so contact us today for more information. We also work with professionals including contractors and architects to produce the desired effect wherever necessary. Be it a tranquil setting amid the everyday hustle and bustle of  our cities or  helping  to create that first impression, a well laid out exterior. It goes a long way to ensure optimal employee /customer satisfaction, wouldn't you agree?