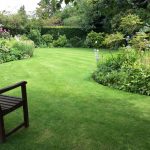 When you need an expert company for turf laying in Altrincham, speak to JPS Garden Services. Regardless of whether you have a business or a domestic property, we are available to assist. With a proven track record for supplying and laying of high quality turf, we are the company to call. We have specialist knowledge and expertise, and we provide top quality turf at affordable prices. A family-run business, our dedicated professionals are happy to provide expert advice and guidance regarding your new turf and its care.
For property owners in Altrincham, turf laying is best done by a professional team. As they have the knowledge, skill and experience in laying turf for all sized properties, you can expect an efficient and well done project. We firmly believe that you should cherish and be proud of your outdoor living space, and this is one of the reasons why we provide a turf laying service at a very high standard. While you may consider yourself as a better than average gardener, you'll need to be aware of a number of aspects to ensure that the laying of your turf is correctly done. You'll need to consider whether the soil in your garden is ready for the new turf. The soil will need to be completely weed-free, turned and it should have the correct pH balance to ensure the healthy growth of the turf. Once the laying of the turf is complete, you will also need to know exactly how to care for it so that it takes root, grows and results in a beautiful, lush lawn.
There is more to turf laying in Altrincham than just purchasing it, laying it and hoping it will grow. This method is likely to leave you disappointed. When you are ready for new turf, speak to our expert team. They will prepare your garden, and when your new turf is delivered our team can begin the turf laying project. When you are looking for a skilled team for turf laying, contact JPS Garden Services. With our team laying your new turf, you can expect a beautiful lawn to enjoy.