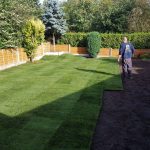 Our gardener in Timperley can assist you in creating and maintaining your ideal garden. As such, our gardener can also assist you to create the garden you've always wanted. As a family-run garden company, we take great pride in our dedication and passion for our work. We offer a range of services including garden creation, garden maintenance, landscaping and turf supplies. Speak to us about the requirements for your garden. Hence, our gardener will meet with you and provide advice and suggestions for your ideal garden. A beautiful garden not only looks good; it also increases the value of your property.
Have you decided on the type of garden you'd prefer? As such, in Timperley, a gardener can help you with a lush, full garden, or a smaller garden. Regardless of the type of garden you prefer, our gardener can make it happen. In addition, our gardener can assist with the maintenance of your garden. We know that this involves both time and work. Most people work throughout the week and weekends are often filled with other obligations. This is where our gardener can provide the perfect assistance. He can halve your workload and can do the tasks that you do not have the time for. Our gardener can plant new shrubs and trees, prune them when needed, create eye-catching flower beds, and more. He can also fertilise the soil, and make the most of the available space.
Our gardener in Timperley is available to assist you with your dream garden. If you would like more information on how our gardener can assist you, contact JNP Garden Services today. We have the right tools and equipment to ensure the project's success. Moreover, our gardener has the drive and passion to ensure that you have the garden you have always dreamed of. We have the experience and knowledge to ensure an excellent garden service. Additionally, we are passionate about what we do and this is evident in the gardens we help maintain. If you are interested in laying out a vegetable garden, our gardener can assist.