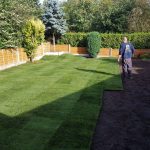 Turf laying in Dunham creates an almost instant transformation. It's a home improvement that really packs a visual punch. The same is true for commercial sites. A healthy green lawn will create a positive impression on customers and that leads to their spending more money. It's true. Studies have shown that people perceive a well-kept business as efficient, friendly and competent. Walking up to a commercial business with a lovely green lawn, plants and trees makes people feel happy. They like that happy feeling so they're more inclined to return again and again. The same is true for homeowners. Lovely landscaping creates a welcoming look that generates a feeling of pleasure to all who approach; especially you, the homeowner.
Have you been struggling along with your lawn, season after season, working to keep out weeds and bare spots? It's a lot of work but in Dunham, turf laying by our experts can set you free. We come in and strip out the old turf along with it's weeds. Then we work a lot of nutrients into your ground, maybe with granules or nutrient dense topsoil. This will give your turf a healthy start and help it grow strong and resistant to disease and insects. All of that is important to a successful lawn but it's not much good unless the turf itself is already strong, healthy and fresh cut. We have our reputation to protect so we're only going to install top quality turf.
Turf laying in Dunham is like a backdrop on a canvas. It's beautiful all on it's own but you can add a tree here and shrub there; maybe some flowers scattered around. Our professional gardeners can carry out your complete landscaping needs. Once the turf is laid, we don't just walk away. We will provide instructions for how to support your new turf through the first days and weeks after it's laid. It's simple really; just a watering routine. However, it's essential. If you are ready to dress up your home or business exterior with turf, contact JNP Garden Services. We offer top quality products and services at very reasonable prices. When we've finished laying the turf we guarantee your satisfaction. Take a look at your new lawn and smile; your property values just went up.