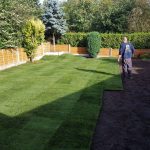 Our expert turf laying in Knutsford ensures that your lawn looks great and stays that way. JNP Garden Services is a professionally run, family-owned business. We offer top-quality landscaping, grounds maintenance and gardening services. Our client base extends throughout the Cheshire and North West areas and beyond. We offer services to both domestic and commercial customers. Affordable, dedicated and excellent quality services are available at your doorstep. Our team of highly experienced, trained and qualified experts can help you with exterior landscaping, designing, construction and maintenance. We also provide state of the art services such as tree surgery and tree relocation.
For our projects in Knutsford, turf laying involves several different steps. The main priority is to ensure that you use the best quality turf. We offer only the best products at cost-effective prices. Our experts conduct a thorough survey of your property, and no matter how small or big it is, we're glad to help. It's important to plan the entire project so that you get the best results. You must also accurately plan the shape, size and type of lawn you need. Analyse the purpose and requirements properly. Who would be using the lawn and how often? How much time do you have for upkeep and care? The environment and weather conditions? The amount of space available, and also compliance with current council restrictions in your area. Our team can help you with all these aspects.
Turf laying in Knutsford has to be a well-planned exercise. Don't take delivery of the turf till it's ready to be laid immediately. When you start the project ensure that you get the soil analysed. This helps you to understand the nutritional value. You can then supplement with beneficial products if required. The area must be dug to a depth of at least 15-30 cm for the best outcome. A layer of topsoil of the best quality must be laid in the freshly dug space. You can also add pre-turfing fertilizers to ensure a lush, healthy growth. For assistance with professional turf laying, contact JNP Garden Services. We provide convenient quantities to suit your unique requirements, and in a timely manner.