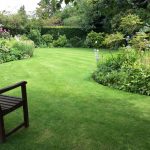 Your solution to garden maintenance in Timperley is JNP Garden Services. We do domestic and commercial garden design and installation according to our clients wishes. However, we also offer a full list of maintenance services to keep your grounds looking beautiful. We offer our maintenance services to everyone, regardless of who designed or installed the initial plants. Our speciality is soft scapes and service for each client is customised. Maintenance has several levels and we can accommodate the level you need. A full maintenance would include weekly maintenance of all lawn and garden plants as well as shrubs and trees. It also includes the seasonal clean up and preparation for the coming season. Tree trimming for healthy growth, bulb thinning, weeding and feeding are all part of full maintenance.
This full level of garden maintenance relieves the home or businesses owner of time-consuming tasks for which they haven't the skills or equipment. In Timperley, garden maintenance also means you will have more time to actually enjoy your garden when you do have time to relax. It's always ready for entertainment. Some of our clients enjoy the easier tasks of garden maintenance such as mowing, weeding and watering during dry spells. That's why we tailor our services to suit each client. Whichever level of service you require, we carry it out with complete professional expertise and conscientious customer service. We have all the right tools for every job and the right size crew. That enables us to carry out each task with expertise and efficiency.
We are experts in garden maintenance in Timperley. It's usually very easy to tell which gardens are professionally maintained and which are not. Families are working longer and longer hours with much of their free time devoted to family activities. So when you do have time to relax that's all you want to do. Figuring the ratios of clay to soil or the ph balance in your garden is not especially relaxing. Tracking down what insects are feasting on your peonies and how to get rid of them takes research and that sounds like work. You might not even notice that the leaves on your tree are starting to curl. Contact us for more details. Let us make your garden a showplace that is always ready for quiet time at home or an impromptu barbeque with friends.