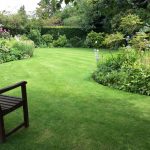 Consider using the services of a professional gardener in Hale Barns if you need assistance with keeping your garden looking beautiful. If you have never ventured into gardening or you don't have the time, it would be more fruitful to hire the services of a JNP Garden Services horticulturist. In that way, you won't have to worry about the plants, raising them or what's afflicting them, you can simply sit back and enjoy the end results. The work of gardeners is quite varied, and at JNP Garden Services, we offer many types of services to both homeowners and companies.
Taking care of a garden requires a lot of time, which many people unfortunately don't have. For your garden in Hale Barns, a gardener could be the answer. By giving the lead to someone else, you will free up your time and focus on the aspects that give you more pleasure. In addition to this, a professional or experienced gardener has specialist knowledge, which means that his expertise could will help your garden reach its full potential while also keeping you from making very costly mistakes. Plants and trees are an investment; they will need constant nurturing and attention, but one wrong step could result in their death. Thus, if you are not that well-versed in gardening, give the lead to the gardener and watch him transform your garden in the most beautiful little piece of heaven on earth.
Depending on the type of work that is required, our gardener in Hale Barns can be hired for a one-time job, or for a longer basis. Whether it's seasonal work, or regular maintenance, you can rely on our gardeners to look after your garden and make sure that it always looks beautiful. For any further details, please don't hesitate to contact JNP Garden Services. Our family run business takes great pride in offering an excellent level of service to all our customers. For a green and fruitful garden, you can always count on us!