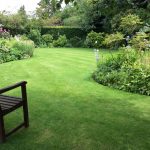 With the right service for garden maintenance in Dunham, you'll give your property extra kerb appeal. Most of us take pleasure in viewing lovely gardens but few of us have the time or leisure to engage in gardening. It's a full time job that requires time, patience, dedication, skill, hard work and specialised knowledge and training. Talented gardening professionals also have a strong sense of colour, design and aesthetics that helps them create unique landscaping and beautiful vistas. As a family run business, JNP Gardens has earned a reputation for top-quality work, professional excellence, end to end bespoke solutions and cost-effective options. We specialise in gardening maintenance, design and construction, no matter what the size of the project.
We can help you with a comprehensive suite of services that includes exterior landscape design, grounds maintenance, garden design and planning, and tree surgery. In Dunham, garden maintenance undertaken by us focuses on providing our clients with a convenient, reliable and premium quality service based on their preferences, available space and budget. Finding the right gardening service is important because an ill-maintained garden is one of the least pleasant sights to greet you or your visitors. Once you've created the garden of your dreams, regular maintenance is essential. Whether it's weeding, mowing the lawn, pruning shrubs and trees, planting the right blooms so that you have year round colour, magic in your garden means a lot of work! You also need to be sure of how much you want your gardener to do and how much of it you'd like to do yourself.
While hiring a service for garden maintenance in Dunham, ensure that your service employs qualified professionals, with public and personal liability insurance. Many people enjoy mowing lawns, trimming and pruning, a spot of weeding. So let your gardening service know what exactly you'd like done. We can provide references and you can visit examples of their work. If you require more information about our garden maintenance service, contact JNP Garden Services. We undertake commercial and domestic maintenance including weed-control, litter collection and disposal, hedge-pruning and any other related services according to your needs. Speak to us for more information about how we can help you and a no obligation quote.