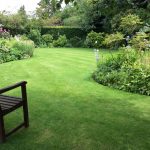 Garden Maintenance in Bowdon is important. Not only does it help to keep a lawn looking good, but it can increase the property value of a home as well. Beyond just the garden, the right landscape choices can bring an aesthetic joy to a commercial or residential property and bring thousands to the resell bottom line. Landscaping is as much an art as it is a talent. That is why it is essential for anyone that is looking to do it well to find the help that they need in creating that perfect outdoor space. We at JNP Garden Services are the company to do just that. Our team provides a wide range of services that will elevate your outdoor space to the next level. With expertise, kindness, and the service you deserve, we are there to help.
If you own a residential space that could need a few simple changes or a home that needs a full landscape renovation in Bowdon, garden maintenance may be just a small fraction of what we at JNP Garden Services can provide you. Our team is filled with experts in the field who can look at an outdoor space and see the potential to transform it. We at JNP Garden Services believe working with our clients as well. That means that collaboration is not only an option but encouraged whenever you feel the need to do so. Our team can take your ideas and work them into the plan or can provide our innovative solutions after consulting on your space. Beyond that, the ideas from our team at JNP Garden Services are sure to be innovative and beautiful.
Garden maintenance in Bowdon is a great way to make sure that your outdoor space is exactly the way you want it to look. At JNP Garden Services, we can trim your hedges, seed your lawn, and make your yard look the way you have always wanted. If landscaping architecture is what you seek, we can do that as well. Contact JNP Garden Maintenance today for your consultation with our amazing staff. Start enjoying your beautiful garden.